Bleakley Financial Group Brings Stock Market to Students at Rowan University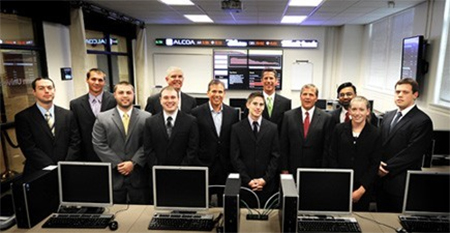 Jack D. Cooney, Jr., Scott Schwartz, & Andy Schwartz of Bleakley Financial Group, pictured here with Rowan University students, at the opening of the new trading room.
In the new trading room at Rowan University, undergraduate and graduate students in the Rohrer College of Business tested their acumen buying and selling stocks with real money — $100,000 that came from the William G. Rohrer Charitable Foundation.
Bleakley Financial Group partners Jack D. Cooney, Jr., Andy Schwartz, Scott Schwartz, and J. Reed Finney sponsored the trading room. The endeavor was also sponsored by Eric Olson, The Olson Financial Group, Summit; Kevin Hassan, The Hassan Group, Philadelphia; and Andrew Braun, The Mid Atlantic Financial Group, Mt. Laurel.
Jack, Scott, and Andy (pictured) participated on Sept. 26 in the "bell ringing" — the official unveiling of the Rowan University Trading Room.
"We thought this would be a wonderful opportunity for the school. It's great for Rowan to be able to expose their students to this, and it's a great way for us to possibly cultivate some associates. We see the school as our sweet spot. We're interested in smart kids who really know how to work," Andy said.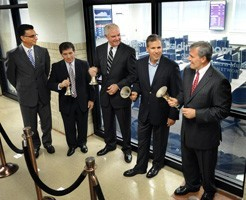 "The trading room will provide the students with more of a real-life experience. So much of college is theoretical. This is an opportunity to see the real world, watch the markets real time," Scott said.
Andy and Scott are Rowan University alumni.
Jack agreed. "I am supporting this because I feel that if we can bring real-life situations into the classroom, students are better prepared to make decisions about careers in the financial industry," he said. "They will have greater awareness of the market and of the impact on their future clients."
"Establishing a trading room was one of the priorities for the Rohrer College of Business," said Dr. Niranjan Pati, Dean. "Through Andy and Scott Schwartz, and the Northwestern family, our students will be able to explore hands-on opportunities that very well may impact their learning experiences and their futures."